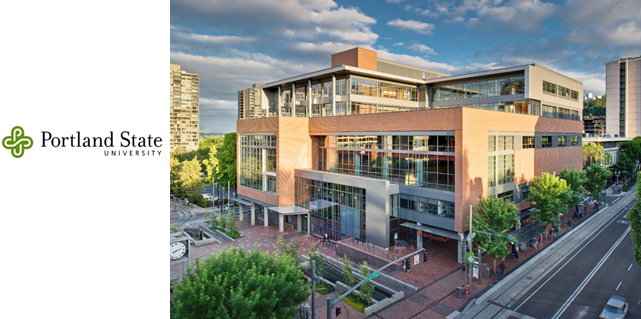 Sobre
Portland State University (PSU) é uma universidade pública com foco em pesquisa, sem fins lucrativos, localizada em Portland, Oregon, Estados Unidos. Originalmente fundada em 1946 como uma instituição de ensino pós-secundário para veteranos da Segunda Guerra Mundial, foi concedida com o status de universidade em 1969. É a única universidade pública urbana no estado de Oregon, que está localizada em uma grande cidade metropolitana.
A universidade foi classificada entre as quinze melhores universidades americanas de acordo com o The Best 376 Colleges by The Princeton Review em 2012 e seus programas de pós-graduação foram classificados entre os 50 melhores nos Estados Unidos pela US News and World Report em 2016. A universidade é reconhecida nacionalmente por seu currículo exclusivo de Estudos Universitários, que culmina em um projeto de alto nível voltado para a comunidade que todos os alunos de graduação devem completar para a se formar. Em 2016, a universidade foi classificada pelo Niche como uma das universidades mais liberais nos Estados Unidos.
The Portland State University School of Business Administration (SBA) oferece cursos de bacharelado, mestrado e MBA, bem como certificados e programas de curta duração em negócios. A escola tem atividades de alcance corporativo que vão de aparições em sala de aula por executivos locais até programas de estágio, projetos de consultoria de estudantes e conferências regulares e eventos comunitários.
Cursos
Bachelor
Accounting
Advertising Management
Finance
Human Resource Management
Management & Leadership
Marketing
Supply & Logistics Management
Masters
The Portland MBA
The Healthcare MBA
The Master of International Management
Master of Real Estate Development
MS in Global Supply Chain Management
MS in Finance
Master of Taxation
Graduate
Athletic & Outdoor Industry
Business Intelligence and Analytics
Business of Social Innovation
Global Supply Chain Management
Real Estate Development (administered by CUPA)
Abrangência
Intercâmbio de docentes; Compartilhamento de publicações acadêmicas e informações acadêmicas; promoção de outras atividades acadêmicas que aprimorem os objetivos mencionados.
Idiomas exigidos
TOEFL
Paper-based: 527
Computer-based: 197
Internet-based: minimum overall score of 71; minimum subscore of 15 in reading and writing

IELTS
6.0 overall (minimum 6.0 in reading and writing)
PTE
53 overall
Vagas
-
Situação
Convênio vigente até 06/02/2022
Site
Informações para intercambistas